Joey DAMMIT! is a mixed media/collage pop artist, with a self-described obsession with the darker side of the cult of celebrity. With a background in the world of advertising, it's not surprising that he's parlayed his love-hate relationship with mass media into great success, becoming one of Canada's premier pop artists.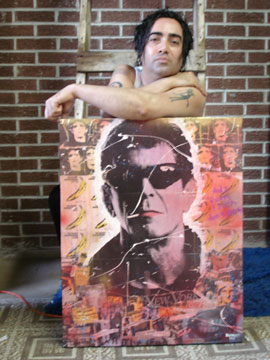 DAMMIT! was born in Madeira, Portugal and immigrated with his family to Toronto, Canada at the age of four. In his teens he had two great loves; drawing and music. Always the performer, he went from altar boy with aspirations for the priesthood, to fronting many a loud hairspray band in the 80's. Joey eventually came to the life-altering realization that he could not, in fact, sing, and put his energies into his other love - the visual arts.
Enrolling in an Advertising and Graphic Design course at Toronto's Humber College, he quickly gained a reputation as a cartoonist, landing freelance work for various newspapers and periodicals. Upon graduation, and finding work in an advertising studio, he immediately realized that the business was not at all what he envisioned. "I wanted to be like Darren Stevens from Bewitched, or Don Draper from Mad Men, and found that the most creative I could get was working on fruit juice boxes."
He quickly left the world of advertising behind, yearning to create art that was original, stimulating, and that would allow him to not only express himself, but to "kill this dull, mesmerizingly pretentious, navel gazing art scene, dead!". DAMMIT! went into a self -imposed, Jim Morrisonesque exile, secluded in one of Paris' finest bordello's, armed only with a backpack of books, a half dozen sketch pads, a framed photo of ex-fiancee Winona Ryder, and 24 crates of Jack Daniels. This last sentence may in fact be yet another exaggeration, if not an outright lie, invented by the artist himself.
DAMMIT! emerged some years later, with not only a very vicious hangover, but a whole new enthusiasm for an art style he dubbed the "Manic Montage". A mixed media, collage and paint work that was influenced not only by Andy Warhol's iconic pop art and Robert Rauschenberg's collages, but also by the opening credits of David Fincher's film, SE7EN, and the musical juxtapositions of Trent Reznor's work on the Natural Born Killers soundtrack. Be it paint, Crayolas, photocopies, street posters, textile, steel and wood, if he could glue, tape, staple, screw or nail it onto a canvas, then…DAMMIT!…it must be art!
His subject matters run the gamut , though he has certainly gained infamy for his usage of celebrity icons, usually done up in a garish manner, and surrounded by a plethora of images, words and three dimensional objects. "The intensity reflects the cultural overload of the landscape we live in. Only DAMMIT!'s able to take the cacophony of sound, image and information and translate it all into a brilliant, frequently funny, occasionally frightening and always fascinating works of contemporary art", states Cathleen Bond of Ocean Drive magazine.
DAMMIT! is the three time winner of Toronto's NOW magazine's "Best Visual Artist" award. He has been featured on numerous occasions in print and electronic media, winning some prestigious awards along the way. The Toronto Star, Canada's largest newspaper, hailed his work as, "Warhol in a head-on collision with David Lynch." His art has been called "brilliant and original", by Mix Arts magazine, and "edgy and darkly funny", by Toronto Life magazine. He was recently chosen by Inside Entertainment magazine as one of the "Six Canadian Artists To Watch".
Shockingly, DAMMIT! has a more serious side, which he has been far from shy in sharing. His willingness to speak openly about his experience with depression, his continuous activism against the stigma surrounding mental health, and his creative and administrative work with the Mood Disorders Association of Ontario and Workman Arts, has cast him, rather unintentionally, as the poster boy for artists and mental health. A full length documentary film on both sides (or is there more?) of the artist, " DAMMAGED: The Rise and Fall and Rise of Joey DAMMIT! ", is now in production.
Joey can be contacted at: dammit@rogers.com